Step 1: Removing Java...
You only need to do this step if you are having problems and have tried everything else!
If all else fails, then removing Java from your system & re-installing might fix your problems. First you need to remove it...
Click the
START
button on your taskbar, and open up the
Control Panel
...

...then click on the 'Add or Remove programs' icon in the control panel window.
WARNING: Be very careful using the 'Add or Remove Programs' panel - you can break your PC!
Only click 'Remove' if you are sure you know what you are removing, and that it is safe to be removed!
You may have to wait 2-3 minutes while the systems checks what is installed on your PC...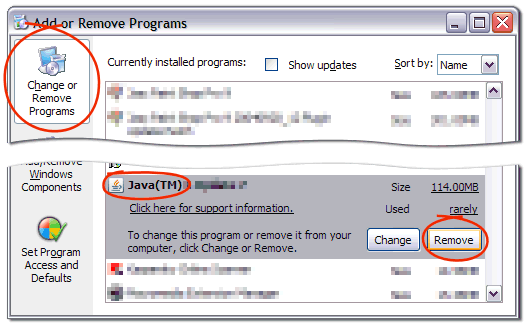 Make sure that you are on 'Change or Remove Programs', which is the default so you should be there anyway.
Scroll through the list until you find entries for 'Java(TM)' with a version number. On each entry you find with the name 'Java(TM)', press the 'Remove' button & follow the on-screen intructions to completely remove the Java program from your computer.
Once you have removed any old versions, you can close this window.
If you do not have any entries with 'Java' in the name...
Then Java is not installed. Don't worry about it, and just go on to the next step...
Step 2: Re-Installing Java...
Click this button to download the latest version of Java(TM)!
...this button will take you to the official Java.com site!
Just click the big 'Free Java Download' button near the top, and follow the instructions!
You should now have a clean & fresh install of Java!
If you still have problems running the web games: